Nanotechnological Proccesses For Solar Energy Conversion & Environmental Protection
(Dr. P. Falaras and Dr. A.G. Kontos)
Research

Objectives/Activities
The research is focused on the investigation of nanotechnology driven photo-induced processes and their application to the direct conversion of solar energy into electricity as well as to environmental protection and health safety. More specifically it includes:
1. Dye sensitized Solar Cells (DSCs)
This work concerns the sensitization of nanostructured semiconductors (mainly TiO2) for efficient solar to electric energy conversion. The possibility of growth of nanocomposite materials (colloidal or pastries) and thin films with optimum morphological characteristics (mainly high surface area) is searched via the application of sol-gel chemistry. The research further aims at the manufacture and optimization of robust photoelectrodes using various deposition techniques (screen-printing, doctor-blade, spin-coating, dip-coating). Growth of titania nanotubes via hydrothermal autoclave treatment as well as self-organized nanostructures via anodic oxidation of Ti metal in corrosive aqueous or organic environments is investigated, too. Moreover, synthesis of new sensitizers, either dyes (transition metal complexes) or nanocrystalline semiconductors (quantum dots) with powerful absorption in the visible spectrum is also performed. Other activities include the development of complex polymer and ionic liquid based redox electrolytes, and the study of their optical, photophysical and electrochemical properties. Besides, applied research on the development and optimization of dye sensitized solar cells that present high efficiency, increased stability and long life time is carried out by combining microscopy (SEM, AFM), spectroscopy (micro-Raman) and electrochemical techniques (EIS, IMPS, IMVS).
"Minimizing energy losses in DSCs"

Adv. Energy Mater. 2012, 6,\A0 616-627

"DSCs incorporating solidified Co(II/III) based-redox electrolytes" J. Mater. Chem. 2012, 22, 46, 24430-24438

 

 

"Ionic liquid redox electrolytes for DSCs"

J. Mater. Chem. A, 2013, 1 (35), 10474 \96 10486

"Long-Term Thermal Stability of Liquid Dye Solar Cells"

J. Phys. Chem. C, 117 (2013) 8636-8646
2. Photocatalysis
Advanced oxidation processes (AOPs) driven by photoinduced heterogeneous reactions that take place at the semiconductor/liquid and /gas interfaces are investigated. Special emphasis in given to the growth of innovative nanostructured titania photocatalysts and their application in the re-establishment of the environment (water, air) and the protection of health. Efficiency of the photocatalytic activity is improved via: a) control of the photocatalytic materials properties in the nano-scale level, b) increase of the photocatalyst effective surface area c) efficient separation of the photoinduced electron and hole carriers d) photocatalytic sensitization of the nanocatalyst in order to shift absorption onset in the visible by metal and non-metal doping, e) judicious balance of the photocatalytic and superhydrophilic properties in films which inherent self-cleaning functionality and f) immobilization of the nanocatalyst powders in complex photocatalytic films with increased chemical and mechanic stability. This research includes the development of antipollution technology and its application in the photochemical decomposition of harmful organics, killing of bacteria and viruses as well as growth of biofilms. Thus innovative composite photocatalytic nanomaterials are developed with parallel design and development of photocatalytic reactors for water and air treatment as well as the development of photocatalytic self-cleaning materials/coatings for the construction sector. Anion modified/doped titania is employed in combination with carbon nanotubes and membranes for the photocatalytic decomposition of harmful organic pollutants under visible light illumination. In addition, the photocatalytically induced anticancer and anticoagulant action of titanium dioxide nanomaterials on neoplasm and inflammatory cells is also intensively examined.
"Inorganic-organic core-shell titania nanoparticles for efficient visible light activated photocatalysis" Appl. Cat. B: Env., 2013,130\96131, 14\9624

"Photocatalytic Oxidation of Nitrogen Oxides on N-F-doped Titania Thin Films" Appl. Cat. B: Env., 2013, 140\96141, 619\96625

"Nanotechnologies for the treatment of water, air and soil"

J. Hazard. Mater. 2012, 211-212, 1-2

"Interaction and Uptake Quantification of CO2 Captured in Zeolitic Imidazolate Frameworks" ChemSusChem, submitted
3. Environmental protection
The outgoing research focuses on physicochemical processes of environmental impact. New titania based nanomaterials and devices are developed for CO2 conversion (photoinduced reduction path) to useful chemicals (e.g. hydrocarbons). Innovative ionic liquids and metal organic frameworks are investigated for CO2 storage, with special interest given to host-guest interactions by in-situ Raman Spectroscopy. Nanomaterials (carbon nanotubes) functionalization is performed and nanotechology based modified electrodes and electrochemical sensors are developed for direct monitoring of harmful pollutants in water.
EU Projects
"Ti-nanotubes" 2006-2009              NMP4-CT-2006-033313
Preparation, Chara\ADcterization and Application of Self-Organized Titanium Oxide Nanotubes
"Clean Water" 2009-2012               FP7-ENV-NMP-2008-2 STREP
Water Purification Using Innovative vi-nanocatalysts
(Coordination of the project: P. Falaras)

"SANS"  2010-2013                           FP7-NMP-2009-SMAll-3
Sensitizer Activated Nanostructured Solar Cells
"IOLICAP"    2011-2014                  FP7-ENERGY-2011-1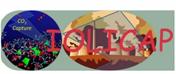 Novel ionic liquid and supported ionic
liquid solvents for reversible capture of CO2
(Coordination of the project: G. Romanos)

"DESTINY"   2012-2015                  FP7-PEOPLE-2012-ITN
Dye Sensitized solar cells with enhanced stability
Greek projects (under implementation)
"AdMatDSC - Advanced Materials for Highly Efficient Dye Sensitized Soalr Cells", ARISTEIA, GSRT, (2012-2015). (Coordination of the project: P. Falaras)
"AOP-Nanomat - Development of Advanced Oxidation Processes Using Nanomaterials and Solar Light for the Removal of Organics, Endocrine Disruptors and Cyanotoxins from Water", THALES, GSRT, (2012-2015).
"'ΝΑΝΟΜΕΣΟ - Materials of Advanced Nano-Architecture at the Mesoscale for Apllications in Energy and Enviroment", THALES, GSRT, (2012-2015).
"NANOSOLCEL - Innovative Materials for Nanocrystalline Solar Cells", THALES, GSRT, (2012-2015).
Infrastructure
4 Labs: Dye -sensitized solar cells; TiO2 Photocatalysis; Photoelectrochemistry; Raman Spectroscopy.
Equipment: Micro-Raman dispersion spectrometer with visible and NIR excitation laser sources (Ar+/514.5 nm, diode-pumped solid-state 514.4 nm and 785nm), hot-cold variable temperature and pressure optical cell, xyz automatic Raman mapping stage, Near Excitation Tunable Raman Filter, two UV-Vis spectrophotometers with integrating sphere and continuous flow through monitoring,\A0 Two Electrochemical Work Stations (Autolab) performing impedance spectroscopy (EIS), intensity modulated photocurrent spectroscopy (IMPS) and intensity modulated photovoltage spectroscopy (IMVS), photoelectrochemistry unit including two solar simulators at AM 1.5G and monochromator for IPCE characterization, screen printing and spin coating deposition facilities, photocatalytic reactors, contact angle meter (CAM), viscosity meter, mortar grinder, autoclaves, light stress (Atlas) and thermal stress facilities, precision gas flow controllers.
International Cooperation
Μ. Grätzel (EPFL Lausanne, Switzerland), H. Snaith (Oxford, UK), G. Tulloch (Dyesol, Australia and Greatcell, Switzerland), U. Steiner (Cambridge, UK), D.D. Dionysiou (Cincinnati, USA), Α. Silva (Porto, Portugal), J. Dona Rodriguez (Las Palmas, Spain), Hequet (Ecole des Mines Nantes, France),\A0 El-Marco (Czech Repubplic), Technion (Israel), A. Hagfeldt (Uppsala, Sweden), F. De Angelis (CNR, Italy), Osmosistemi (Italy), P. Schmuki (Erlangen, Germany), G. Thompon (Manchester, UK), L. Kavan (Prague, Czech Republic), V. Catalano (Nevada, USA), P. Potvin (Toronto, Canada), Dr. A. Hugot-Le Goff (CNRS-Paris, France), P. Tisnes (Toulouse, France), Z. Picramenou (Birmingham, UK), A.C. Filippou (Bonn, Germany), D. Andreeva (Sofia, Bulgarian Academy of Sciences), A. Ibhandon (Hull University, UK), A. Walker (Bath, UK), J. Bisquert (Kastello, Spain), E. Kantilaftis (Osmosistemi, Fano, IT), IRT (London, UK).